GWEN CATES "COSMIC MONOLOGUES" SOLO ART EXHIBIT IN LOS ANGELES
DATE & TIME:

Saturday November 9th, 4-7 pm
Talk with the artist @ 4pm
Wine will be served.
LOCATION:

Salon @ the Granada
672 S. Lafayette Park
Suite 40
Los Angeles CA 90057
Opening on November 9th and lasting for one-month, international artist Gwen Cates will present a solo exhibit. "Cosmic Monologues" takes us on a journey between absence and consciousness. One day while looking at Stephen Hawking's material on black holes, the artist recalls having an astonishing idea and began pulling her paints out at that that moment. She realized that empty space is never truly vacant, nor can our lives ever truly be blank, or meaningless. In that moment, Gwen Cates at the age of 79 decided to reinvent herself as an artist.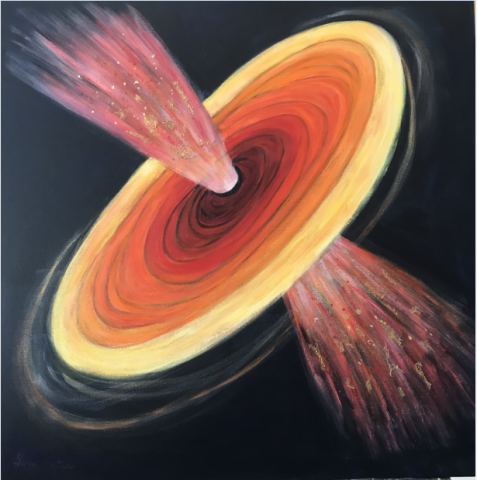 Virtual particles move in and out of existence all the time, just as we do. Gwen Cates now invites others to share in a new cosmic dialogue with themselves. The paradox of black holes remains a mystery, yet they invite us to glimpse the unexpected luminosities of reality.
Join Gwen Cates in the cosmic monologue in which we all play a role. Ask yourself these questions as you walk amongst the large colorful acrylic paintings, or just stroll through the painting on her website:
How are you dancing in the mystery right now?
What is your current Cosmic Monologue?
Artist Bio:
International artist, Gwen Cates, spends her time between Virginia and California. She began painting in the 1960s and has had art exhibits in Britain and the United States. She describes herself as a contemporary colorist, creating experimental and playful abstract paintings in acrylic, often with collage elements. The images have been inspired and grew out of earlier plein air landscapes and figurative work.
Gwen calls the current series of paintings "Cosmic Monologues." Going deeper into her subconscious and the world of dreams, Gwen reveals fantasies from her imagination. She creates archetypal images and incorporates winged figures, horses and other animals in her compositions. Swatches of fabric, lace, gold leaf and lichen from oak trees are some of the elements that are included in the paintings.
For more information, visit: http://www.gwencates.com/biob.htm
Artwork:
Gwen Cates invites you to her new solo exhibit on November 9th. Her artwork can be viewed on her website: www.gwencates.com
Contact:
A Rose Is A Rose Is A Rose, The Granada Building Ste. 40, Los Angeles
Instagram: Gwen Cates
Facebook: Gwen Cates
Or contact the artist via email: Gwen Cates – [email protected]
Media Contact
Contact Person: Gwen Cates
Email: Send Email
Country: United States
Website: WWW.GWENCATES.COM